HVAC Repairs are our strong suit at Air Force Heating and Air Conditioning
We repair all makes and models of heating and air conditioning equipment. All of our technicians are trained and factory authorized in heating and cooling repairs to correctly diagnose any heating or air conditioning problems the first time. Our vans are fully stocked with the most common parts and also have equipment to ensure your system is often repaired on the first visit. We guarantee your air conditioning repair 100%!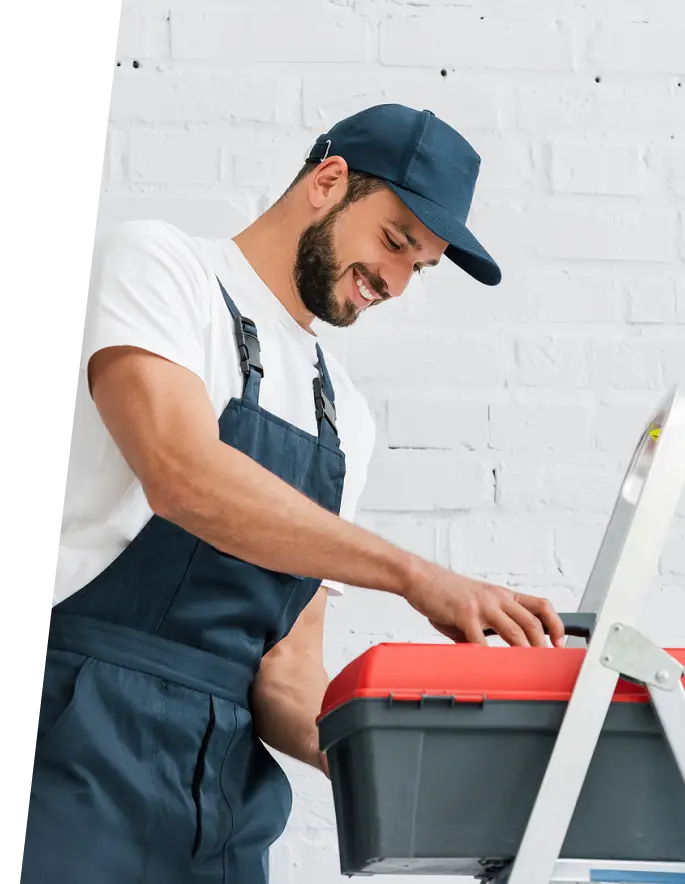 Heating and Cooling Repairs near Me in LaGrange, GA
Winters in LaGrange, GA are mild but will still place a profound load on your
heat pump
or heating system. If you have a standard air conditioner and furnace or a heat pump, the inside fan motor, and unit run during the heating and cooling season. This means the indoor unit works non-stop all year long. Indoor dust wreaks havoc on motor lubricants, electrical switches, and indoor coils. All of this usage and lack of cleaning means every heating system will break down. Our factory-authorized and trained technicians have the parts and also the know-how to repair your heating system the first time. Air Force Heating and Air Conditioning offers upfront pricing so there are no hidden costs.
Air Conditioning Repair Lagrange, GA
Summers in LaGrange, GA place a heavy burden on your heating and air conditioning equipment. High temperatures and humidity conditions mean your system runs longer and cycles more often. Therefore this results in your air conditioner failing during the hottest part of the summer. If your air conditioner is running constantly or making peculiar noises it probably needs repair. The motors, electrical switches and the coils need routine maintenance and cleaning. This ensures they do not operate outside the manufacturer's design limits during the intense heat. Our factory authorized and also trained technicians have the parts and know-how to fix your air conditioning system quickly. We are your local choice for air conditioning repair in Lagrange, GA.
Contact us today.
Quality Air Conditioning and Heating Repair
Our team is your local choice for AC and heating repair in Lagrange, GA. Trust our experience. If your home is not as comfortable as it should be we can help. From AC repair to heat pump issues we have you covered. Let us help you get back to the comfort you deserve. Call us for your heating and air repair appointment today.
Top-Rated AC Repair Lagrange, GA
Before summertime sets in, every home and business owner in Lagrange, GA needs to have a reputable AC repair service provider on speed dial. The last thing any of us needs is to face a dreaded air conditioning outage in the heat of summer. Air Force Heating and Air is locally owned-and-operated and we're ready to help make sure your air conditioner remains fully-operational all summer long. We're only a phone call away and we can handle any HVAC issue you might be having.
Why Choose the Air Force for Heating & Cooling Services Near Me?
The team of HVAC techs at Air Force prides itself on delivering quality services for all heating and AC repairs, installations, and maintenance visits. Regardless of the problem you are currently facing, Air Force is always just a phone call away and will quickly ensure your home is as comfortable as possible. 
Reap these benefits when you hire Air Force for those necessary "HVAC repairs near me":
Award-winning that has claimed the Carried President's Award six times

Highly skilled, licensed, and insured techs at your door

Value, integrity, and professionalism at every point of the service

Prompt response times to your inquiries and needs

High-tech equipment and gear for effective and quality repairs and installations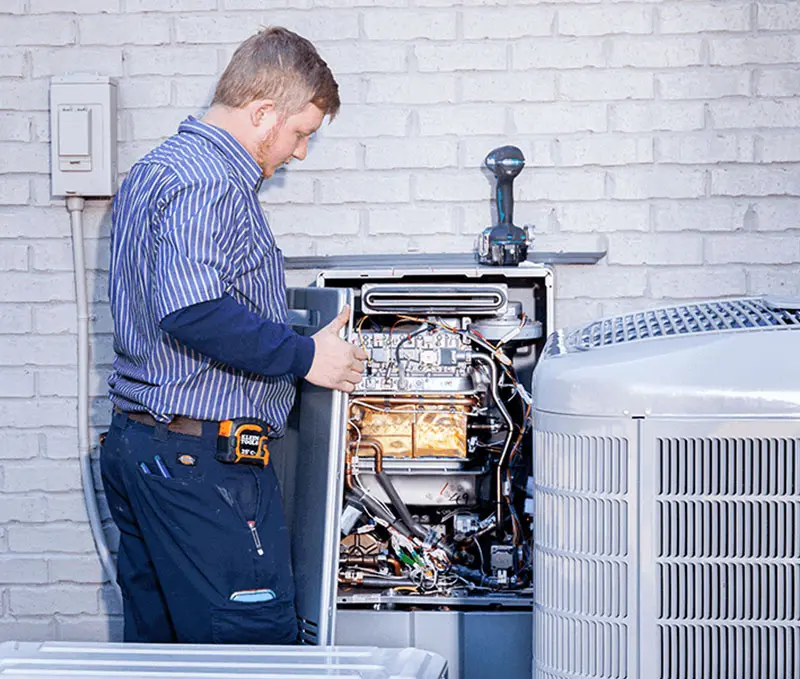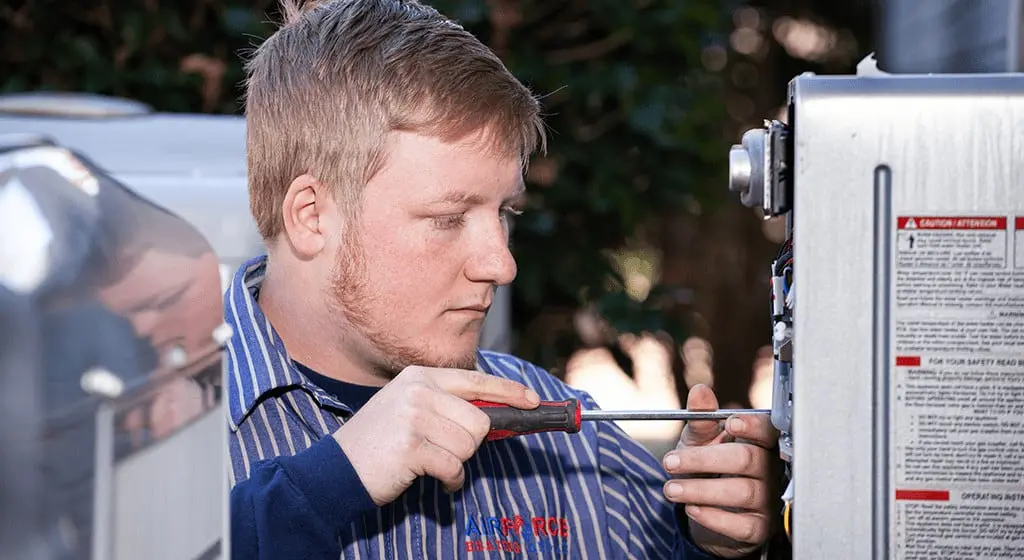 Quality HVAC Services Offered for Your Home
So what types of services can you expect from the Air Force? Whether your problem is big or small, our techs will always come through and help you out with the following types of services: 
Unsure if your issue requires repair or attention? Here are some common reasons to call an "HVAC repair tech near me":
High energy bills

Poor AC efficiency

Poor indoor air quality

Puddles or pools of water around the AC unit

Inconsistent temperatures throughout the home

Poor airflow or lack thereof

Warm air blowing from the vents when you expect cool air

Foul odors

Strange noises

Frequent cycling
Best HVAC and Furnace Repair Award Winner 2021!
Indoor Air Quality Services
Are you concerned about the air quality in your home? Since most of us spend a lot of time indoors, quality, breathable air is of the highest importance. When you call in the experts at Air Force for help with your indoor air quality, you can be sure to receive a thorough assessment and personalized recommendations and services that will quickly restore your home's air. The frequency at which you have your indoor air quality test depends on the following factors: 
Existing Air Quality Issues
Is your home prone to having issues with mold growth or other pollutants? If so, then it would be beneficial to have your air quality tested more frequently.
Do you or anyone else experience issues with asthma, allergies, or other respiratory issues? The symptoms of such conditions are exacerbated by poor indoor air quality, which must be tested seasonally to ensure that it is at optimal levels.
If you live in an area where it is often humid, prone to high levels of allergens, and other pollutants, then your air quality test must occur more frequently.
Clearly, each home's air quality concerns are personal to its needs and the best way to understand these needs is to consult the pros at Air Force. 
Duct Cleaning
Every so often, your air ducts must be cleaned for the sake of your AC's performance and the indoor air quality of your home. We perform thorough and efficient duct cleaning services that will help you reduce the need to seek out those "
heating and ac repair near me
". Here are some signs to look for when trying to determine if your air ducts are due for a cleaning: 
Dust bunnies or pet hair building up around vents

Mold or mildew growth

A musty smell in your home

Decreased airflow from your vents

Increased energy bills

Frequent allergy or asthma symptoms
Aeroseal Services
We are happy to offer all of our customers a highly innovative Aeroseal service designed to effectively seal the air ducts in their homes. This service uses an advanced sealant that comes in an aerosol mist and is applied from inside the ducts to eliminate cracks and holes. Thanks to this advanced technology, you will experience an improvement in the way your air conditioning unit performs and in the quality of your indoor air.  Aeroseal services are needed in the following scenarios: To improve indoor air quality by reducing pollutants, allergens, and mold spores. To save energy by sealing air leaks and improving insulation. To make a home more comfortable by reducing drafts and noise. To protect a home from moisture damage by sealing air leaks around windows and doors. To comply with building codes that require air sealing. To sell a home more quickly and for a higher price. These benefits of aeroseal services are well-worth the investment and will help you enjoy maximal comfort at home.
What You Can Expect from Us
If this is your first time contacting an AC repair company, or you've had bad experiences with HVAC techs in the past, you may have some reservations about reaching out to a new company. Since customer service is our top priority, we want to make sure that you know exactly what you can expect from us on a service call.
When you choose to work with Air Force Heating and Air, you can expect the following:
Trust the local AC repair Lagrange, GA company, Air Force Heating and Air.
Call the Air Force Today!
Are you in need of heating and AC repairs? When you search for the term "air conditioning repairs near me", many options come up but no one is nearly as good and reliable as the techs at Air Force. Contact us today to get in touch with the region's most qualified techs for effective and prompt service.