Marietta, GA AC Repair, Maintenance, and Installation
HVAC System Services in Marietta, GA
There is nothing more important for home comfort than a fully functioning air conditioning unit. Thanks to this wonderful modern contraption, we can stay cool, comfortable, and safe all year round. The heating and cooling systems and equipment in each Georgia home are valuable and because of this, you cannot settle for anyone less than the best for your AC services.
Air Force Heating and Air offers a team of the most qualified and skilled technicians who will provide prompt and reliable service for your HVAC system. Whether you need a regular AC maintenance visit, a complex repair, or a replacement or installation of your cooling system, our team of technicians is prepared to provide you with great service.
Why Keep Up With HVAC Maintenance?
To get the most out of your AC unit, it is important to keep up with regular maintenance services provided by professional HVAC technicians. The HVAC technicians at Air Force Heating and Air provide a full range of thorough tune-ups and maintenance inspections that will ensure a reliable and efficient HVAC unit. Regular AC maintenance is crucial as it ensures the following:
Avoid Unwanted Air Conditioning Repair
During an inspection, the HVAC company and technicians will assess the general health of the unit to ensure that all of its components are cleaned and aligned in their correct positions. If anything seems out of place or in disrepair, the technician will make the necessary repairs. Doing so will prevent bigger problems down the road that cost a lot of money to fix. A regular tune-up will go a long way to preventing the need for an air conditioning replacement.
Efficient HVAC System Performance
Clogged air filters, ducts heat pumps, and refrigerant fluid lines, as well as inadequate refrigerant fluid levels, are all the causes of poor efficiency. All of these issues can be largely avoided with a regular tune-up. Keep up with maintenance, and your heating and air system will work well for years to come
Maintain and Enhance Indoor Air Quality
If heating air in your home has poor indoor quality, chances are that your HVAC hasn't received a once-over from an air conditioning repair tech in a while. AC techs change air filters and perform an overall cleaning of the unit during a maintenance visit. This maintains and promotes good quality air inside the home.
Save Money on Energy Bills
A regular maintenance check helps prevent expensive repairs and keeps your energy bills to a minimum. Every step that the HVAC technician takes during the air conditioning services helps maintain or improve the efficient function of the system. As a result, you will live in maximum comfort but at a minimal cost. And with the rising costs in Atlanta, Marietta, and all of Georgia, we can safely say many customers are looking for ways to cut those costs down!
Extend the Life of the HVAC System
During a maintenance check, many problems are identified that are then resolved by the HVAC contractor. The routine cleanings coupled with repair prevention provided by these services ensure that the compressor works smoothly, without any extra wear and tear. Thus, you will get to benefit from your AC for the maximum time of its lifespan.
Keep Your Marietta Home Comfortable
Lastly, who doesn't like a working AC system? After all, it is what helps us stay cool during those hot summer days, and warm in the winter. The better maintained your AC, the more comfortable you will be in your home.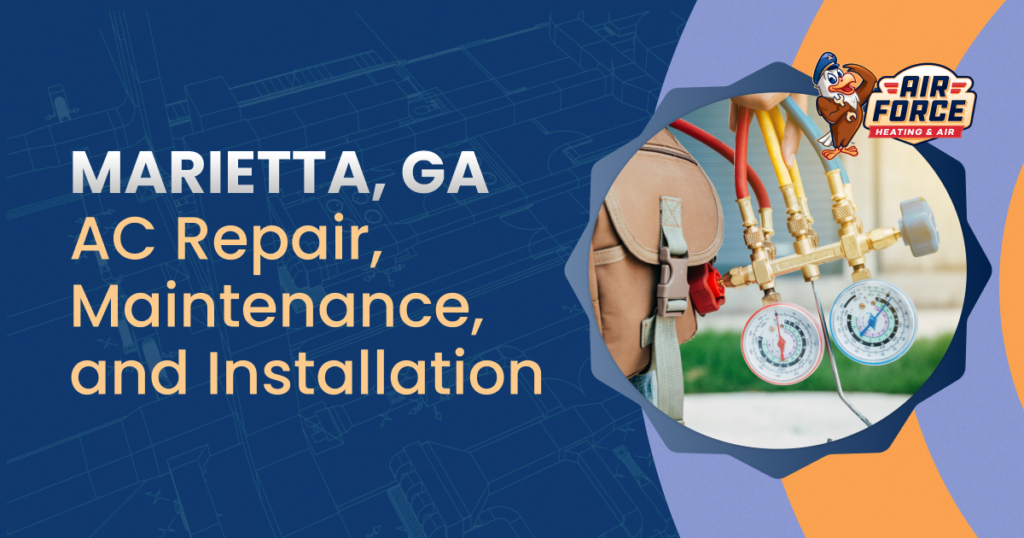 Local AC Unit Services Include
Air Force provides a full range of various HVAC systems and services designed to repair and enhance the operation of your air conditioner, allowing you to stay comfortable inside your home all year. We are one of the leading HVAC companies in Georgia, providing excellent air conditioning service for many years now.
AC Repair: Marietta, GA
Do you have an issue with your AC? Look no further than Air Force for efficient and high-quality repairs that will restore your unit or air conditioner to optimal operation. Common signs for AC repairs are:
AC unit blowing hot air when set to produce cold air

Odd smells or sounds coming from the cooling system

High energy bills

Poor indoor air quality like mugginess, dust, and debris in the air when the unit is working

Leaking fluid from the evaporator or other components of the HVAC equipment

Frozen condensation lines
Do not hesitate to contact us when your AC isn't delivering the temperature levels that are expected from it. Book now to benefit from our professional, same-day service!
24-Hour Emergency AC Repair Marietta
Whether your AC unit or heat pump breaks down during the day or in the middle of the night, Air Force Heating and Air is prepared to help you out. With our 24-hour emergency repairs hotline, help is just one phone call away!
'
When Emergency Repairs are Required for Air Conditioning Units
Any fluid leaking around the unit or vents

When you smell burning coming through the vents

When the air conditioner refuses to power up
We offer same-day service when your cooling system is especially needed. If you notice any of these problems in your HVAC system, call us right away for prompt and professional service.
Professional HVAC Maintenance
Regular maintenance is the hallmark of an efficiently operating air conditioning unit business. With the help of our thorough maintenance services, you will be able to enjoy the comfortable and smooth operation of your AC for a long time.
Quality AC Installation Services
Are you in need of a new AC unit for heating and air conditioning in your home? This hefty investment requires only the top-notch installation technicians who will provide a quality, long-lasting installation in your home. We also offer free estimates to all of our customers in Georgia.
When it is Time for an AC Replacement in Marietta, GA
Your air conditioner does not produce the consistent heating or cooling temperatures as it once did

The indoor air quality in your home is declining

You are constantly in need of air conditioning repair services, which are getting increasingly expensive

The system refuses to power on

The air conditioner is no longer efficient
If you notice any of these issues in your home, it may be time to shop around and take a look at our new air conditioners that are offered in the Metro Atlanta area! Ask us today how you can take advantage of the tax credits, rebates, or financing options available to make your AC replacement more affordable.
Contact Air Force Today
When it comes to your furnace or air conditioning repair, installation, or replacement, there is no one better for the job than the skilled HVAC technicians at Air Force Heating and Air. We offer professional and efficient services to help you achieve the cooling or heating comfort you desire. Call us today at (706) 584-2656 to request same-day service!
Learn more about our other services:
Our Georgia Service Area:
Our Alabama Service Area: