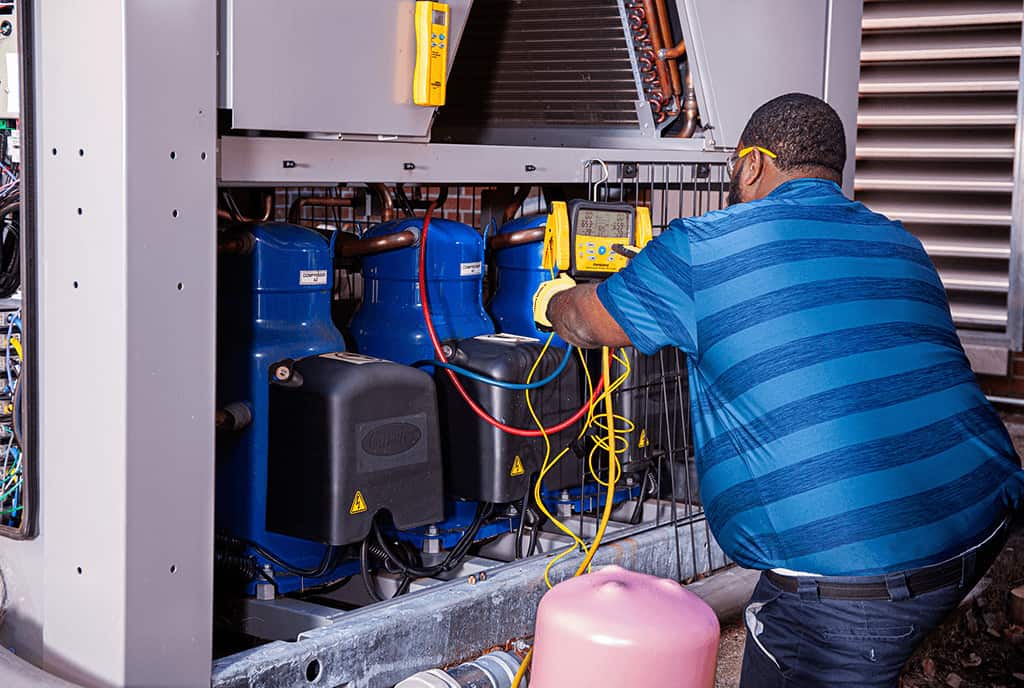 Heating and Cooling Services in Franklin, Georgia
Franklin, Georgia is known for its small population and also it's independence but if your HVAC system or is on the fritz you need to rely on the heating and cooling team at Airforce Heating and Air. We can provide Franklin with the highest quality heating and cooling services when you need them. As your local choice for heating and air services in Franklin, GA, we are available 365 days a year for an emergency service call or to schedule an appointment.
Heating Air Franklin, GA Experts
Airforce Heating and Air wants to ensure your comfort by providing our highly trained technicians who receive the best and also the latest training. Our technicians are professional, reliable, and also trustworthy. When it comes to your indoor comfort, we can repair all makes and also models of HVAC systems. From refrigerant replacement, capacitator repairs, and thermostat replacement, no job is too big or too small.
Common Reasons For HVAC Repairs
Homeowners in Franklin know how vital their air conditioning and heating system is, especially during the blistering summer heat and chilling winter. When you need a heating or cooling repair it usually happens during the most inconvenient time of day. That's why Airforce Heating and Air offers 24/7 service trustworthy and also reliable. We have compiled a list of the most common reasons you may need an HVAC repair.
Extinguished Pilot Lights
It hasn't been maintained
3 Tips to Prevent HVAC Repairs in Franklin, GA
Here are some tips for our Franklin, Georgia homeowners that will help prevent an HVAC repair.
1.
Replace Your Air Filter Regularly
A dirty air filter can make your system work harder. A system that works harder is more apt to break down and need costly repairs. Replacing your air filter every 3 months not only allows your system to perform without the added stress of delivering air through a debris-filled filter, but it also helps provide better indoor air quality.
2.
Clean the Area around the Outdoor Condenser
Removing and keeping any debris, objects, plants, or structures from the outdoor condenser will help prevent an HVAC repair. Your outdoor condenser is one of the most expensive pieces of equipment with your HVAC system. When making sure the area around the condenser is clean and free of obstruction it will help ensure your condenser is operating smoothly and getting good airflow.
3.
Get an Annual Maintenance Plan from Airforce Heating and Air
An HVAC Maintenance Plan is one of the most effective ways to reduce the risk of an HVAC repair. An HVAC Maintenance Plan is an annual check-up of your heating and air conditioning system. A technician will perform a wide range of tasks to ensure your system is running at optimum efficiency. The Airforce Heating and Air Maintenance Plan have many additional benefits too including priority service and also discounts.
Taking Care of All Your Franklin, GA Heating and Cooling Needs
Airforce Heating and Air wants to be your go-to for all your indoor comfort needs. When you think heating / air in Franklin, GA, think Airforce Heating and Air. We take our job seriously. We have made it our mission to provide our customers with the highest quality service and products in the industry. At Airforce Heating and Cooling, we offer professional and knowledgeable advice and also always guarantee your satisfaction. If you would like to schedule an appointment or need an emergency repair, we are a phone call away. We are proud to serve the community of Franklin, Georgia.
Local Services for HVAC in Franklin, GA
Airforce Heating and Air is the best heating and repair company in Franklin, Georgia.
We are proud to be Carrier factory dealers and take pride in providing the highest quality HVAC products in and around Franklin, Georgia.
At Airforce Heating and Cooling, we are a distinguished HVAC company and 2X Carrier President's Award Winners.
We stand behind our customers and our service, always guaranteeing 100% satisfaction.
Our technicians always offer a free estimate, with upfront pricing and also financing options with approved credit.
Our technicians are NATE certified, licensed, insured, and also bonded.
We sell and install Indoor Air Quality products and also HVAC Accessories.
We provide the highest quality zoning services, repair and also installation to HVAC systems, Ductless Systems, Geothermal Systems, Furnaces, and Heat Pumps.
Our service area includes Franklin, Greenville, Pine Mountain, Newnan, and also LaGrange, Georgia.
Contact Airforce Heating and Air Today
Call Airforce Heating and Air today and schedule your Heating and Cooling repair. We look forward to working with you.
Our Georgia Service Area:
Columbus | Franklin | Grantville | Greenville | Hamilton | Hogansville | Lagrange | Manchester |
Moreland | Newnan | Pine Mountain | Sharpsburg | Warm Springs | West Point
Our Alabama Service Area:
Learn more about our other services:
---
Airforce Heating and Air
HVAC Franklin, GA Experts
Top Rated Heating and Air Franklin, GA
Expert Franklin, GA AC Repair
Best Air Conditioning Service Franklin, GA
Best AC Repair Franklin, GA
Franklin AC Repair Experts
Top Rated Air Conditioner Repair Franklin, GA
Best AC Service Franklin, GA
#1 Air Conditioning Repair Franklin, GA