Hogansville Heating and Air Conditioning Services
Professional Air Conditioning and Heating Repairs in Hogansville, Georgia
Hogansville has often been referred to as the prettiest small town in Georgia. However, there is nothing appealing about your air conditioning breaking down during a sweltry Georgia summer. At Air Force Heating and Air, we are available 24/7 for emergency call-outs to make sure you keep feeling and also looking your best no matter what cooling issue you have. Our professionally trained technicians can also keep you comfortable in the winter season. We are your local choice for heating and air services in Hogansville, GA.

The friendly and dependable team at Air Force Heating and Air pride themselves on customer satisfaction and also want to ensure you are comfortable indoors no matter what the weather is like outside. We offer repairs of all makes and models of HVAC systems. Therefore no job is too big or too small.
Certified Heating and Cooling Repairs in Hogansville, Georgia
When you need professional heating and cooling repairs in Hogansville, Georgia call Air Force Heating and Air. Our NATE certified, licensed, bonded and also insured technicians will make sure that your repair is carried out safely and correctly. Don't troubleshoot your HVAC problems yourself. Let a qualified professional identify the problem and therefore offer the most cost-efficient solution for you.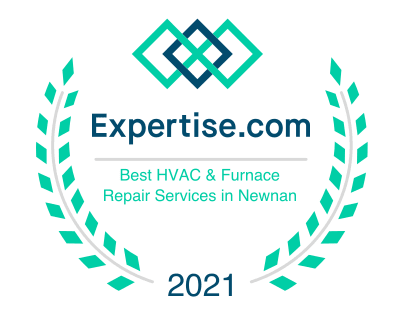 3 Technical HVAC Repairs You Shouldn't Fix Yourself
Most Hogansville, Georgia homeowners are skilled enough to carry out simple HVAC maintenance on their heating and cooling systems, like changing air filters and cleaning leaves and also other debris away from the unit. However, more technical HVAC repairs require a licensed and qualified technician to fix.  Here are 3 HVAC repairs that you shouldn't fix yourself:
Adding Refrigerant
It may seem like a simple fix: add more refrigerant and make your air conditioning system instantly cooler. However, doing so would break the law. Environmental Protection Agency (EPA) regulation stipulates that only a certified professional can add or replace refrigerant. Handling refrigerant also has significant risks such as asphyxiation, flammability, and toxicity. Additionally, if your HVAC system was built and installed before 2010, it is possible that your unit is still using R22 refrigerant. As of January 1, 2020, the production and import of R22 refrigerant is illegal. If your system runs on R22 refrigerant, a licensed professional will need to either retrofit or replace your current system. Air Force Heating and Air are qualified to handle all refrigerant repairs in Hogansville, Georgia.
Doing Any Electrical Work
Do you suspect your heating or cooling issue is due to a loose cable, short wire or broken capacitor? Then don't even think about repairing the HVAC system yourself. HVAC systems have many different components that run via electricity with high voltages surging through them. Trying to fix faulty electrical work yourself is never a good idea. Doing electrical work without training and certification poses a serious fire hazard, can void your homeowner's insurance, create bigger, costlier problems down the line, and even be fatal. If you suspect an electrical problem with your heating and cooling system, you'll need the help of a professional technician from Air Force Heating and Air.
Replacing Broken Parts
Many homeowners in Hogansville, Georgia pride themselves on being successful DIYers. However attempting to replace any broken parts on your HVAC system is never a smart DIY project to undertake, even if you are 100% sure what part is damaged. HVAC systems have complex inter-working parts that require professional repair to ensure the proper running. Attempting to replace a condenser coil, compressor, or fan motor yourself might sound easy, but you risk getting in over your head and are likely to turn a minor issue into a bigger, more expensive problem. It is always smarter to call an Air Force Heating and Air professional to replace any broken heating and cooling parts instead.
Select Air Force Heating and Air for Your Licensed Air Conditioning and Heating Repairs in Hogansville, Georgia
With Air Force Heating and Air you will get:
Air Force Heating and Air provides professional HVAC repair, installation, and maintenance for the city of Hogansville and also the surrounding areas.  Contact our licensed repair technicians to schedule an appointment for any and all of your air conditioning and heating needs in Hogansville, GA, and also the surrounding areas.
Learn more about our other services:
Our Georgia Service Area:
Our Alabama Service Area: