HVAC Installation is our strength at AirForce Heating and Air
We offer high-quality heating and cooling installation in LaGrange, GA. We never recommend replacing a heating and cooling system unless it's warranted. If we discover that you would be better off replacing your heating or cooling system we will provide an estimate for the repair of your system compared to the replacement cost. We offer free replacement estimates and financing with approved credit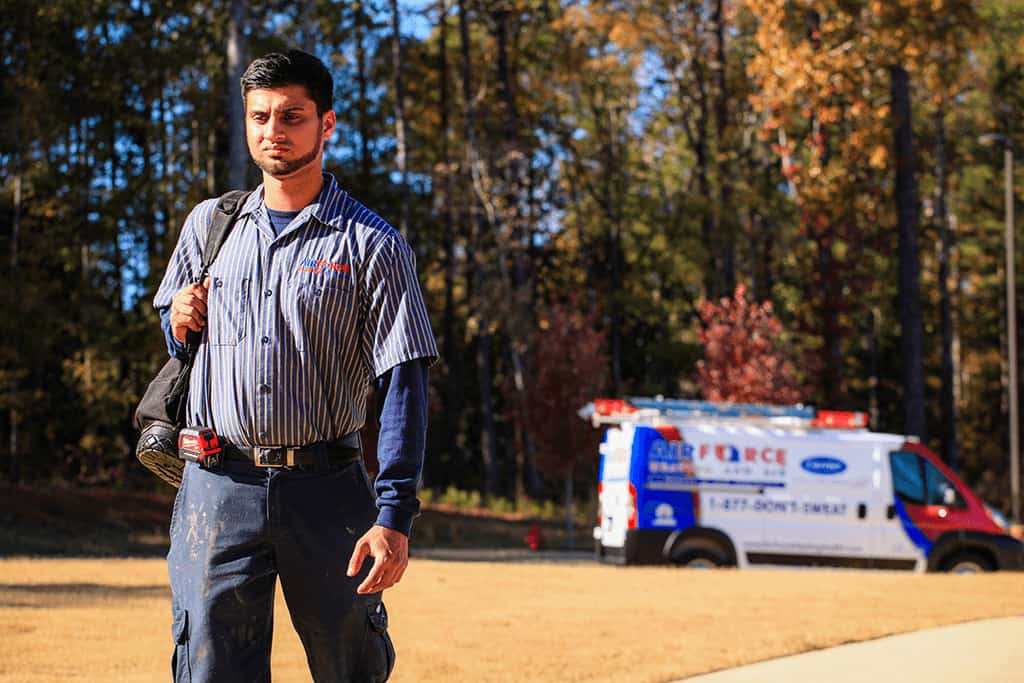 Choosing Airforce Heating and Air for your heating and cooling installation means you get the best installation in LaGrange, GA. Combine that with the reliable, affordable, and proven Carrier equipment you get the best company combined with the best equipment in the business. We are proud to install Carrier air conditioners because it is what we use in our own homes.
Are You Experiencing:
Increasing Energy Bills

If your energy bills have been slowly increasing over the last couple of years this is a good indication that your heating and cooling system are starting to run poorly. As motors and also compressors start to fail they use more electricity to make them work.

Some of Your Rooms are Too Hot or also Too Cold

If you notice that some rooms are hotter or colder than normal this is also a good indication that your heating and cooling system is beginning to fail. This means that your system has begun to lose heating and also cooling capacity. A new system or HVAC zoning may help.

Age of Equipment

If your heating and cooling system is more than 10 years old, chances are it's beginning to enter the frequent breakdown phase. Replacing your system with a high-efficiency system will lower your energy usage, help avoid costly repairs, and also help avoid the inconvenience of system failures during extreme weather.

Humidity Problems or Excess Dust

If you're starting to notice humidity issues such as mildew or also musty smells it means your heating cooling system is beginning to lose capacity. Your cooling system is the only means of removing excess humidity. Excess dust in your home means more dust in your heating and cooling system, causing a breakdown.

Frequent Breakdowns

As your heating and cooling system reaches the end of its life parts begin to fail which results in system breakdowns. As compressors and motors age they begin to work harder, use more energy and overheat. Overheating and excess energy usage can cause electrical components to overload and short out
Great Heating -Cooling Installation Contractor Near Me
AirForce Heating and Air is the premier heating and cooling installation contractor in LaGrange, GA, and also the surrounding area. Our company is built on honesty, integrity, and also trust. AirForce only uses the highest quality Carrier equipment with the highest quality system installs.
Our factory-authorized and trained installers ensure your new Carrier will last for years to come. We match the right system based on your heating and cooling installation needs. This assures complete comfort, lower energy usage, and peace of mind that your new Carrier system will keep you comfortable all year long.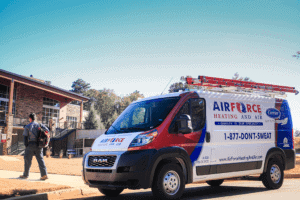 For the highest quality heating and cooling installs with financing with approved credit and convenient monthly payments contact us.
HVAC Replacement Company in Lagrange, GA
Here at Airforce Heating and Air, we know that all heating and air systems are unique. Therefore it might not be easy for homeowners to determine when to fix them and when to replace them. That's where we come in. We have many years of experience working with all HVAC makes and models and we can help you decide when to replace your heater or air conditioner.
Any time you have questions or concerns about the vitality of your heating and air system, give us a call. We're happy to assess your system and provide you with an honest option about whether your HVAC should be replaced or if it has a bit of life left in it.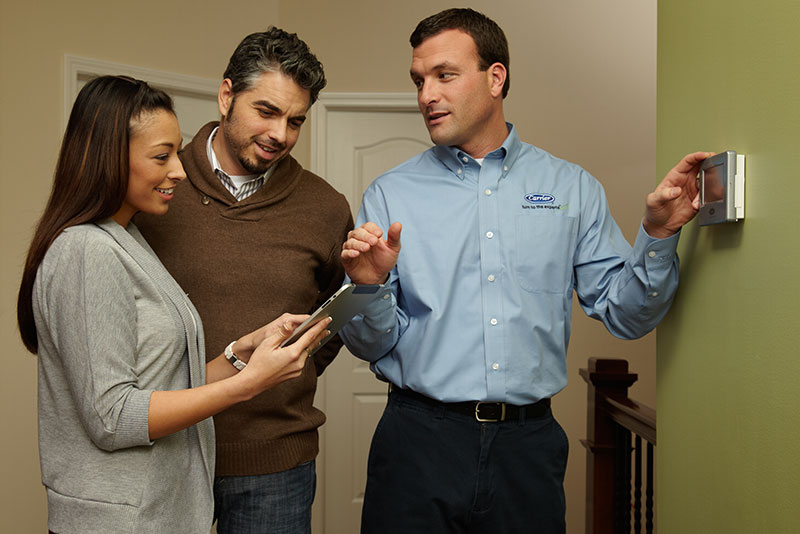 Call the HVAC Professionals at Airforce Heating and Air
To make the decision to call us a bit easier, we've put together a brief list of warning signs that indicate your HVAC system might be on its way out. Contact us if any of these sound familiar:
Your HVAC is Old: HVAC systems that are nearing, or have surpassed, the 10 year mark most likely need to be replaced. We can help you decide if now is the right time.
Your Energy Bills Increase: Unexplained increases in energy usage can be a key indicator of a failing heating and cooling system.
IAQ Decreases: A decrease in indoor air quality, that can't be attributed to a new pet or lack of proper maintenance, can also suggest your HVAC may be on its last leg.
Your HVAC Frequently Needs Repairs: Although rather obvious, it's worth mentioning – if you always seem to be calling for HVAC repairs, it may be time to just replace your faulty system.
Airforce Heating and Air – Professional HVAC Installations in Lagrange, GA
Contact the HVAC professionals at Airforce Heating and Air – we can help you make the best decision about repairing or replacing your HVAC system. We can assess any HVAC make or model and we'll always give you our honest, expert opinion. Call Airforce Heating and Air today to book an HVAC replacement assessment with one of our talented technicians.
Learn more about our other services:
---